Many of you know that I had the privilege of being Ben and Tricia Haggerty's childbirth educator and birth doula for the birth of their daughter Sloane Ava Simone in 2015. While Tricia was creating a baby, Ben was creating music. Both were creating space in their lives for this transformation into parenthood. I am so proud of them for doing what they do for each other, their daughter while doing things to raise up the world. After seeing another great interview today with Ben trying to keep it real within the destabilizing context of fame, I'm inspired to post some of the great things M&RL and family/team do. Some of it will be about their transition to parenthood. There will be nothing I share here that isn't already public or that I haven't gotten permission to post. I sincerely love Ben, Tricia and Sloane and feel I want to use my (humble) platform to support them.
Photo above: Liner notes from 2016 CD This Unruly Mess I've Made; Sloane's birth with Tricia, Ben, midwife Tina Tsiakalis, doula April Bolding.
Wow! A musician (rapper) including photos of his baby's birth and first moments of life into the liner notes. What a personal, beautiful share! Check out "This Unruly Mess I've Made" (2016) to see more. Here's one with Tricia breastfeeding her wee one.
************
Beautiful song "Growing Up (Sloane's song)" by Macklemore and Ryan Lewis. See baby Sloane in their parents' arms for the first time at the end. Precious!
************
Here's an interview with M & RL called Fully Human, posted on August 20, 2015 after Sloane was born. The transition to being a parent is hard and we all have our own path. It's like water in the desert to hear people who are well-known to speak candidly about it. These are the stories that help us with our transitions.
************
The song Same Love is so touching and powerful. Did you know the video's opening scene starts out in Seattle's very own Center for Birth birthing center? The owner of Center For Birth, midwife Tina Tsiakalis, is featured in the first scenes of the video assisting with the birth. Such pride!
************
Macklemore with Obama?! Yes.
"Grammy Award--winning rapper and Seattle native Macklemore joined President Barack Obama in the president's weekly address to discuss drug addiciton and call for politicians to fund recovery programs." They announced that there will be an hour-long documentary on addiction released summer 2016 to be aired on MTV cable network.
"President Obama and Seattle hip-hop artist Macklemore discussed the opioid addiciton epidemic in America during the president's weekly address."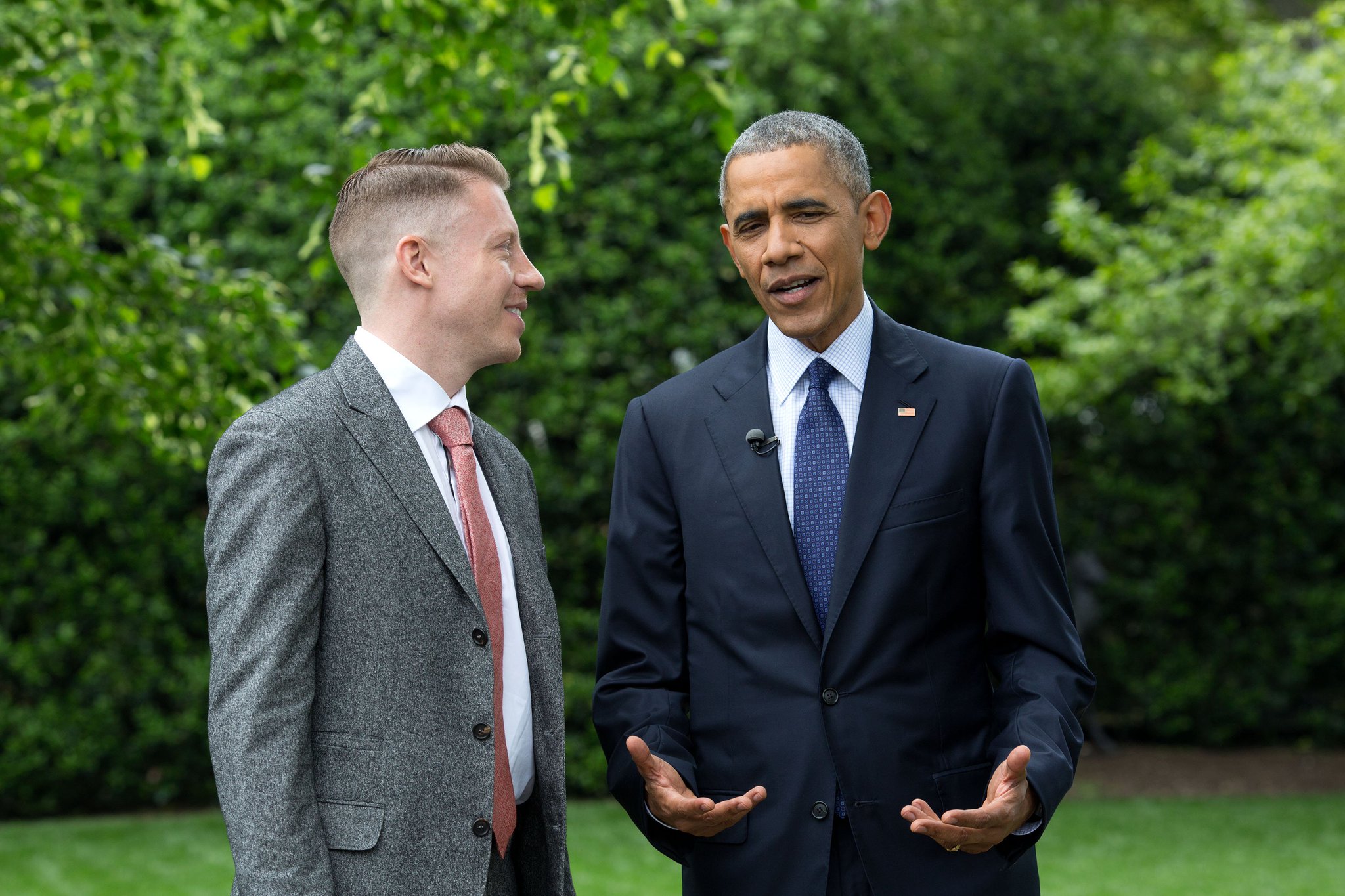 ************
Check out Macklemore and Ryan Lewis' Kevin video:
************
Took my daughters to see Macklemore and Ryan Lewis perform in Portland, OR on 5-26-16. Incredibly fun show steeped in love and meaning. He has such a great sense of humor while making a great connection to the crowd. At one point, he talked about how the media is all about fear, hurt and keeping us separated. He said, "No matter your politics, who you identify as, what god you pray to, what you do on Sundays, Mondays or Tuesdays...we are all connected through Love. That's what's important." We in the audience not only heard it, but with the vibe he and his posse created, we were able to feel it, embody it. Seriously, this is a man who is using his platform for the good of all.
My daughters and I were able to visit Ben, Tricia and Sloane Ava Simone backstage. This night marked the year anniversary of Tricia going into labor then having their daughter two days later. Beautiful!
************
"Prescription For Change: Ending America's Opioid Crisis," a one-hour documentary tackling opioid addiction epidemic, aired on October 11, 2016. The centerpiece of the doc is a frank conversation between Grammy-Award winning artist Macklemore and President Barack Obama, in which the two openly share their own experiences with substance use as they discuss the scourge and stigma of addiction. "Prescription for Change" also highlights the societal forces that have contributed to the opioid crisis, as it follows the journeys of three young women in recovery.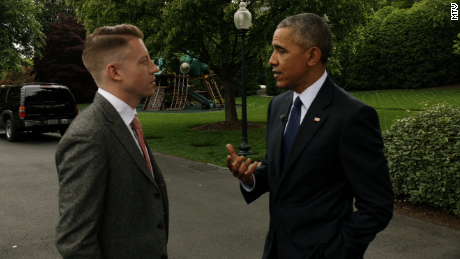 Macklemore released a new song called "Drug Dealer" on Oct. 11, 2016 as well, featured in this documentary.
Official Video, directed by Jason Koenig, produced by Honna Kimmerer:

************
Here's Macklemore's instagram response the day after Trump got elected for President. That Wednesday morning and beyond has been heavy for so many of us. He gifted us with his expression of it and performed it on Ellen.
I am disappointed, shocked and shaken at my core by what has transpired tonight. I gathered around the TV with my family and loved ones, ready to celebrate history being made. My daughter had this little blue dress on. I was ready to pop the Martinelli's and hold her, watching Hilary Clinton become the first female president of the United States of America. But...It didn't happen. I had a sick feeling in my gut, riddled with anxiety as the polls started coming in. After hours of a growing pit in my stomach, it was over. I left the TV, grabbed my daughter and took her to bed.
But now, as I'm laying next to my her as she sleeps, I remember. Remember what I have control over and what I don't. I don't have control over Donald Trump becoming president. That has been decided. But what I do have control over is where I go from here.
I will teach my daughter to love. All people, regardless of the color of their skin, gender, religious beliefs, sexual orientation or where their birth certificate says they're from. I will teach her how important it is to be an advocate for humanity. Not just the portion of humanity that benefits her. I will teach her non violent communication. That in the face of hatred we must love each other even harder. Not give in. Not get discouraged or feel like our progress in the past is void. Keeping fighting for all of us, with an emphasis on those that and have been the most affected by systemic oppression. I will teach her that when she is silent during moments of injustice, she is siding with the oppressor. I will teach her that walls divide people, and by their nature cannot bring us closer. And that just because someone holds the most powerful position in the world, does not make that person right, just or fair. Donald Trump is not raising my daughter. I am. I get to encourage and nurture her to be who she wants to be. Teach her that her voice and actions can change the world. Teach her that she can do anything that a man can do. And one day, even become president of the United States of America. I have work to do. It starts now. And that work is the only thing bringing me peace at the moment